Caddo Lake
Largemouth bass, redear sunfish, spotted bass, striped bass hybrid, saugeye, smallmouth bass, striped bass, it's all at Lake Caddo.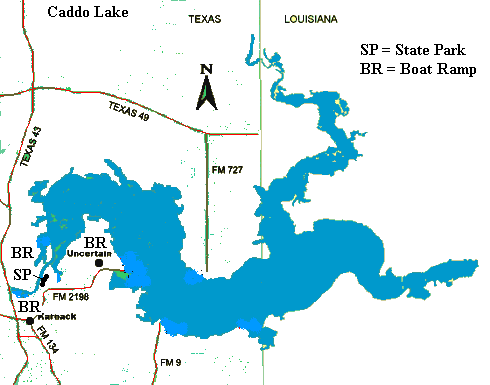 Caddo Lake. Texas . N 32° 41.000 W 94° 05.000 on the border straddling Texas and Lousiana. The only natural lake in Texas.
20 miles northwest of Shreveport, Louisiana, and is a 25,400 acre lake and constantly been called the most beautiful lake in America. Shreveport has all yhe things you'd want to find in a major metropolitan area including airports and Downtown on the Red river there are casinos.
Fishing for Bass on Caddo lake is like turning the clock back. The cypress trees hang with Spanish Moss. Time seems to go along slowly except for the explosion of water as the six to eleven pound BASS attacks your bait.
Small shad colored crankbaits and flukes work well on the main lake pad fields. If the wind gets up, try a white spinnerbait or lipless red crankbait will get some good bites in those spots. If it's the flipping the jigs and plastics you are after use the black brown amber southpaw jig or watermelon-chart.
Caddo began as a natural lake, but because of flooding it was first dammed in 1914, but then was replaced in 1971.Largemouth bass is subject to a 14-18 inch slot length limit,there is a 5 fish daily bag limit also. Harvest regulations differ on the Lousiana side for many of the fish species best to check with the Louisiana Department of Wildlife and Fisheries website or call (318) 676-7594.
Caddo State Park
In Caddo State Park there are 40 campsites, plenty of canoe rentals, 9 cabins, bank fishing and hiking nature trails.Additional lodging is available at some of the marinas. March is the best time to fish for the largemouth bass.Crappie fishing is best in winter and early spring.The White bass bite best in winter and early spring, look where there is a bit of current. Chain pickerel are also good at this time of the year; the fish like aquatic vegetation, there's plenty of it. Come late spring and into summer is a gret time to fish for sunfish and catfish.